Kompas 0.1.1 - a few fixes and many new map plugins

Kompas is already quite usable, let's make it also useful. This update brings new plugins for Bing, Yahoo, Ovi Maps and more, fixes some issues in map view and improves layout in Map Options dock.
What's new?
Here are the most important changes, if you want to see everything that was changed, see full changelog.
New plugins
Support for Bing Maps was added for both Road and Satellite map. The Birds Eye (or Side View) satellite map is not supported, because the images are dependent on viewer position, which Kompas cannot handle (yet?). Anyway, this technology is quite awesome, check it out on bing.com/maps, if you haven't already. Also Yahoo Maps are supported, their online viewer is slightly broken for me in Firefox and Opera (not zooming smoothly), so I can now claim that Kompas views these maps better :-) But this doesn't stop here, here is list of all the new plugins: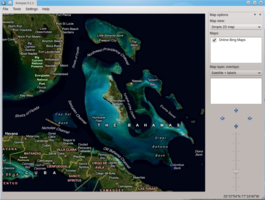 Bing Maps
Celestial map from 1675 (the image has 3 megs, so it will take some time to load)
HikeBikeMap.de
Freemap.sk
Ovi Maps
Yahoo Maps
Changes
Added *.desktop file for Linux users, so the application actually appears in the menu. That should be already in version 0.1.
OpenStreetMap should now load faster, tiles are downloaded from three different servers.
New Loading and Not Found tiles. No more "Hic Sunt Leones" :-)
Map Options dock was a little bit crowded in version 0.1, everything is now properly visible.
Fixes
Google satellite maps were broken already in 0.1, but I forgot to fix it, now it works as expected.
Packages with missing zoom levels weren't zooming to mouse cursor.
Fixed plugin disappearing when unload was not successful.
Kompas
» Add comment
Discussion: 0 comments
No comments yet.